Tuesday 12th September 2017
Members Evening with a maximum 15 sheets using the letters G, H & I
(Pictures to follow)
Recently the society's committee decided to make a real effort to gain greater member involvement in 'Members' Evenings', and this was endorsed at the summer AGM. Through encouragement and an underlining that all entries are welcome, no matter how brief, basic or undeveloped they may be, the September meeting saw 10 of the 15 members present displaying. This was the best result for many years, and demonstrated that the Society has an all-inclusive remit. The first presentation was by Keith Clements who took the subject 'History of Germany'. He began with an examination of the Treaty of Versaille - 'a harsh settlement'. As he traced the history through to the 21st century, excellent use was made of various stamps, including overprinted Bavarian issues, the Hitler years, the Soviet era, Post-Soviet and those of Re-unification. Peter Pierson provided an insight into the mysterious world of 2009 GB overprinted stamps, entitled 'The Hidden Codes'. Clarewyn Smit considered in some depth and with passion 'The 1976 UN Year of the Disabled'. This well written-up study was well supported by quotations, illustrations and numerous stamp issues and strongly underlined 'Human Rights of the Disabled'. Gordon Masson presented 'Geography of Tasmania in the Victorian Era'. This insightful study made fine use of maps, stamp enlargements and details of printings, including perforations and watermarks. 'Gibraltar' by Burt Burton gave members access to just a glimpse of a fascinating study. The evening's theme concerned 'The U-boat War in the Mediterranean' and was very well written-up, making excellent use of stamps, covers, maps, photos, cigarette cards and military information. Using 'G' (Greenwich), 'H' (Huddersfield) and 'I' (Ironbridge), David Etchells shared his research of 1841 penny reds and these associated town handstamps. His particular interest considered the 'Maltese Cross' cancellation mark. 'Australian KGV Penny Reds' was Colin Mount's subject and revealed a highly detailed study of printings, worn plates, inks and subsequent rarities. 'Never give up, keep looking' was his message as he revealed a recent near impossible gem of an acquisition. Chris Wheeler shared an interesting colourful display, 'International Peace Year'. Wendy Buckle took the subject 'Guttenberg', which studied printings and engraving, issued stamps, covers and photos. This was a high quality presentation, beautifully written-up. Concluding the evening was Paul Barry's 'Great Britain Jubilee Series 1887-01', which focussed on various stamp values on cover. All had interest, including coloured advertising envelopes, multi-stamped envelopes and interesting themes to collect, for example 'The Russian Connection'. Here were observed an early cover to the London Russian Embassy and another to a certain British gentleman in Moscow, having no stated address- none being needed in Victorian times!!
(paul barry)
*****************************************************************
Tuesday 11th July
50th Annual General Meeting followed by
"A Look at Pillar Boxes" by Rowan Brockhurst, our immediate Past President
The topic 'Pillar Boxes' is not a familiar one among philatelic clubs and societies, yet has a central role in the world of stamps and postal services. Such organisations benefit hugely from the numerous philatelists who have built up unique collections, displays and very considerable specialised knowledge and this evening's presentation was no exception. Ringwood's immediate Past President, Rowan Brockhurst, provided a most entertaining insight into the world of pillar boxes, explaining how he first sought to engage in this philatelic study area. His son's class had been given a task –that of investigating brasses and other embossed surfaces, which in this young boy's case involved seeking to make rubbings of the insignia on such boxes. Rowan soon became aware of the wide range of boxes, their manufacture, their locations and insignia design. Early boxes were made of wood, as in the case of those in the Channel Islands. They tended to be located at public houses, later to be replaced by iron ones, and installed generally to the rear, where horses with carriages were rested, for onward postal delivery. Members learnt that the oldest box, still in use, is the one at Barns Cross, Holwell, near Sherborne. Considering types of box, the first ones had vertical opening, later to be replaced by horizontal on account of rain ingress. Among early boxes, lovely fluted style ones are still to be seen at Milford-on-Sea, Mudeford and Eton. Colours play their part with green being used in Ireland and blue in Scotland. Later England, Scotland and Wales all changed to red. Exceptions exist, as in the case of Hull with its cream painted ones! The study of design is a huge area of investigation. For example Liverpool had its own, but by 1859 666 standard boxes were established. Of famous design is 'The Penfold', being designed by architect A W Penfold, there being 5 types. All boxes had the Royal Cypher (VR) with adjustments seen across subsequent reigns. Rowan illustrated his presentation with a substantial number of photographs, many depicting 'ER' boxes. Also included were images of different types –free standing pillar, lamp-post and fence fixing and wall …of which the one fixed high in a wall at Lulworth (marked 'out of service') is a delight, giving rise to questions of why?! A variety of overseas pillar-boxes were also featured, colours setting them apart. Many boxes receive much local affection, as in the case of Sherborne's Olympic gold box, to be seen outside the central post office.
On this subject of pillar boxes, author Bill Bryson makes numerous references, pointing out that this icon is truly engraved in the national consciousness, but perhaps we have to thank Anthony Trollope for their introduction –another story!
| | |
| --- | --- |
| | |
| Postbox out of use due to birds nesting in it! | Postbox inaccessible due to the floods! |
| | | |
| --- | --- | --- |
| | | |
| A variety of boxes | Channel Islands and Isle of Wight examples | Rowan with part of his display |
(paul barry)
************************************************************
Tuesday 13th June
Guest Speaker - Malcolm Price - "Australian Forces in Northern Territory during WWII and their subsequent involvement with the BCOF in Japan"
The Australian involvement in the Second World War beyond Australian territory is a frequently occurring philatelic study in many clubs and societies nationally, but this particular presentation of Australian Forces in the Northern Territory, followed by an examination of their later role in Japan is a far less well known subject. Members of Ringwood Philatelic Society enjoyed an interesting evening therefore when speaker Malcolm Price shared both his considerable knowledge and a unique and scarce collection. His extensive display, supported by fine write-up, contained maps, military overprinted stamps and rare proofs, (singles, blocks and sheets), covers –many censored, flown and registered mail, lettercards, various hand-stamp cancellations- steel/rubber, photos, press cuttings, and correspondence. He traced the history of the period and explained that the military were deployed to the north in a protection role. As with Pearl Harbour, the Japanese attack on Darwin (8th December, 1941) propelled the military into a new gear. Roads and narrow gauge railways were developed. Post offices were few and therefore facilities were quickly established to aid communication. These included new air-force base postal services. South East Asia became a major theatre of conflict, with the Australian mainland clearly further threatened. The display was considerable and a major section considered the Japanese phase of the war. Here were presented naval covers and cancellations to and from significant ships such as 'The Shropshire' and 'The Bantam' and the Japanese surrender 2nd September 1945, on board the battleship 'Missouri' in Tokyo Bay. Australian interests post-war had to be maintained, and so a large military occupying presence was developed along with a strong postal service, both for official and commercial purposes. PoW mail was part of the display, both inward and outward, together with information airdrop letters and posters (on what not to do). Locally produced overprinted stamps threw up scores of printing varieties, a philatelic goldmine!! By the summer of 1957, the last Australian officials left Japan, and so this fascinating philatelic story concluded at this point.
In providing a warm vote of thanks, Society President Colin Mount spoke of 'the phenomenal amount of displayed material, absolutely perfect, a remarkable display'.

| | | |
| --- | --- | --- |
| | | |
| Air Letter from Northern Territories to New South Wales | Letter from an Aboriginal Mission to New York | Malcolm receiving his certificate from President, Colin Mount |
Paul Barry
*****************************************************************************************************
Saturday 3rd June
"RINGPEX 2017" Our own Stamp & Postcard Fair
at Greyfriars Community Centre - open 10am to 4pm
The 3rd of June proved to be another most successful day in the RPS calendar. RINGPEX continues as a highly popular stamp and postcard fair. As usual a significant amount of planning was involved together with very much effort on the day by a small dedicated team of Members. The event was well promoted particularly by an interesting window display of local estate agent Carr & Neave, which took as its main theme the main raffle prize of a fine quality 'Penny Black'. This annual prize attraction is much appreciated by both committee and punters and is the most generous gift of GB specialist dealer and Honorary Member, Peter Mollett. This year the winner was a local philatelist. An excellent ambience pervaded throughout the day, helped along by the provision of refreshments, including the famous RINGPEX hotdogs and bacon rolls! A most pleasing profit was again achieved which assists in running costs, essential to a healthy society and bank balance! The organising team's only regret for the day was that due to a health issue, Hampshire thematic dealer Paula Cant and husband Philip had to cancel at short notice with insufficient time to replace. As a real measure of the fair's enduring popularity, all dealers are booked for next year, being …
2nd June, 2018…an important date for your diary!!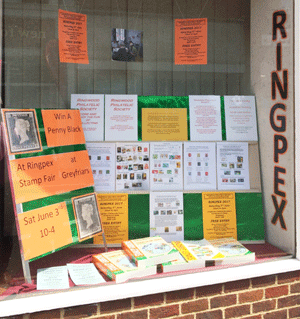 Paul Barry
************************************************************************************************
Tuesday 9th May
Members One Page competition and Bring & Buy
Four entries were submitted in this evening's Competitions, each winning a trophy for their class. The overall winner was Alan Whittaker who was congratulated on his excellent entry.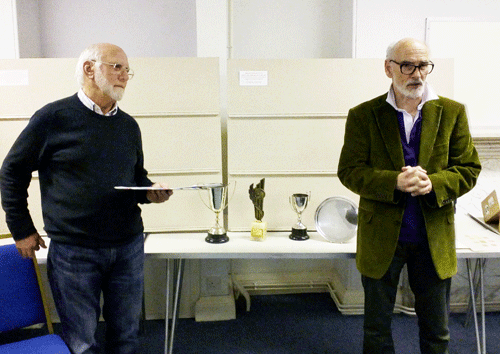 Julian Jones and Paul Barry about to announce the results and present the Awards
**********************************************************************************************
Tuesday 11th April 2017
Guest Speaker - Michael Elliott FRPSL with "Finland at War"
Speaker Michael Elliott provided Ringwood Philatelic Society members with an insightful, fascinating, but most tragic historical account of Finland during the period 1939/45. Over many years, he had acquired related philatelic material via his personal connections in this Baltic country, together with purchases, some bulk, from UK dealers and his collection and knowledge had benefitted hugely. Geographically, Finland has frequently suffered from having Russia, her huge and mighty neighbour, on the doorstep….none more so than during the mid-20th Century. 1939 saw the Winter War with Russia. The second war was the Continuation War, whereby Finland joined Hitler to achieve advantage over this common enemy. This led up to 1944, when the 3rd war broke out, being part of the Treaty of Moscow…the Lapland War, which sought freedom and independence. Given this background, it is difficult to imagine functioning postal administrations or the survival of philatelic material. Michael was soon to demonstrate via his superb presentation, quality write-up and eloquent delivery, a considerable knowledge of the period. His 180 sheet display revealed numerous scarce and unique items. There was a huge collection of covers, some pictorial, including some 'entires', whereby the original contents were to be appreciated. Amongst the treasured items, there were very scarce German postal history covers, some official and again with correspondence. Military hospital postal items were included. A small section of related material on the Lapland War was present, but Michael explained that little of such postal history has survived. The presentation was peppered with supporting items…stamps, overseas charity labels, photos, maps and propaganda leaflets.
Chairman Paul Barry warmly thanked the speaker for sharing his excellent collection, and pointed out that it had taken some 12 years of waiting to secure this philatelic extravagance for the Society's programme!
| | | |
| --- | --- | --- |
| | | |
| Winter War - Unnecessary use of a bisect, 20 March 1940 | Winter War - Army Staff Corps card showing use of a Motorcycle, with trailer on sleds, 1937 | 1940 Olympics Cover - 3 May 1939, but Olympics not held |
| | | |
| Winter War - Postcard used in 1940, back | Winter War - Postcard used in 1940, front | Continuation War, letter used by Sweedish Volunteer |
| | | |
| Parcel Card to a Corporal serving in Kpk No 6, in November 1944 | Interim Peace - Picture on Postcard sent in 1940 | The Contunuation War, Picture on Postcard sent in 1942 |
(paul barry)
@@@@@@@@@@@@@@@@@@@@@@@@@@@@@@@@@@@@@@@@@@@@@@@@@@@@@
Tuesday 14th March 2017
Annual Members Competition Evening
Ringwood Philatelic Society recently held its annual members' competition night. Entries were carefully researched and presented and covered an interesting range of topics. A high standard is required and Hampshire Federation philatelic judge Julian Jones was suitably impressed, whilst steering competitors towards even higher achievement. Member Paul Dumsday provided a small study on 'Gilbert & Ellis Islands' through a selection of QE II stamped covers. David Etchells' 12 page entry 'Manuscripts, Writers and Banks' dealt with the subject within a postal history context which benefitted from the inclusion of both pre-stamped and early postally used envelopes. A thematic entry 'A Day out at Kew', compiled by Chris Wheeler, was a delightful consideration of the attractions of this famous national horticultural treasure, underlined by mint stamps, booklets, first day covers, postcards and photos, all superbly written up. The concluding display, and the one achieving first place was the entry from member Alan Whittaker, the subject being 'German Occupation in WWII'. This again was a well described study, ably supported by mint stamps, overprints, fascinating covers, photos, a Red Cross message and registration form. Displayed was but a fraction of a significant collection, which when fully represented will form a notable local/national competition entry.
Chairman Paul Barry commended the members for their superb entries and warmly appreciated Julian Jones for his much valued judging expertise.
| | |
| --- | --- |
| | |
| The "Manuscripts, Writers and Banks" entry | Judge Julian Jones presenting the winner's salver to Alan Whittaker |
(paul barry)
%%%%%%%%%%%%%%%%%%%%%%%%%%%%%%%%%%%%%%%%%%%%%%%%%%%%%%%%%%%%
Tuesday 14th February 2017
Tony Flax - "Caring for the Coast for the next 100 years"
This, the Society's deferred Christmas meeting, kept to tradition whereby its non-philatelic theme, had wider appeal for member's guests. Speaking of his many years with the National Trust, currently as its Coast and Marine Advisor for the South West, Tony Flux provided a fascinating insight into a vital, but under represented aspect of endeavour, that of coastal management. Numerous statistics accompanied the power-point presentation, one notably, that 45% of all NT coastal sites exist in the West Country. Beginning by outlining historical support for this conservation work, commencing in Barmouth in March 1895 with the first bequest, Tony underlined the crucial nature of such long term work. Dealing closely with the how/why of continual coastal change, a variety of trends were identified; new surface temperatures, sea level rises and issues around wind and wave action, heat and precipitation. Other aspects of the Trust's work concerned pros/cons of land defence and dwellings relocation. The tension between inevitable coastal erosion processes and engineering interventions was examined, not to mention costs, local preferences/demands and political influences. 'Do we patch up coastal stretches today, only to return in 20 years' time to repeat the exercise?' Tony made the strong case for realistic and long term planning/remedies, often in the face of local and traditional embedded attitudes, which could be misinformed/misplaced. A major part of the Trust's work clearly centred around explanation, education, good PR, science/engineering and the economics of viable projects. This most interesting talk was further enhanced by considerations of case studies, university research and superb coastal photography including aerial coverage, some historical revealing erosion and habitation trends. Tony, clearly a most passionate advocate of the protected coastal environment, reminded his audience that surveys reveal over 25% of people daydream about 'being by the sea!' He stated that 'Dorset has everything!!' including a fantastic coastal heritage. In appreciating Tony's superb presentation and pitch for responsible realistic conservation, Chairman Paul Barry voiced the mood of the meeting in stating how much we all owe to our wonderful rich environment and to the National Trust's vital and ongoing coastal management brief.
| | |
| --- | --- |
| | |
| The Forces of Change affecting the Coastline | True Words! |
| | |
| --- | --- |
| | |
| Decaying Defences on Brownsea Island | Aerial view of Poole Harbour |
(Paul Barry)
zzzzzzzzzzzzzzzzzzzzzzzzzzzzzzzzzzzzzzzzzzzzzzzzzzzzzzzzzzzzzzzzzzzzzzzzzzzzzzzzzzzzzzzzzzzzzzzzzzzzzzzzzzzzzzzzzz
Tuesday 10th January 2017
Members' Evening with Mini Displays
This, the first meeting in Ringwood Philatelic Society's 2017 programme enabled the examination of a wide range of themes. A superb and well written-up study of early Australian airmail items was much enjoyed. The 1920s and 1930s saw considerable development of these intriguing airmail services and this was well reflected in the displayed material. Included were Australian territory maps, stamps- both singles and in blocks, fascinating scarce flown covers with interesting postmarks and newspaper cuttings. A study of wartime Guernsey stamps, first-day covers and press cuttings was of equal merit. 'Gibraltar' was the following theme where the focus shifted to WWI and a consideration of US Forces and their mail, inbound/outbound to the States. Centre stage was a range of letters and postcards (some censored), postmarks, pictures of Gibraltar and submarines. 'Curious cancellations' provided a brief examination of familiar GB issues with the highlight being a fabulous multi-stamped cover with some 40 modern stamps! 'Gilbert & Ellis' stamps were also presented along with a very scarce cover franked 'Fanning Island'. Another unusual presentation featured 'Victorian Parcel Post Labels' of the late 19th Century where stamps had been affixed to official gummed labels having strong adhesion to a variety of surfaces, aiding the postal service. Many philatelists keep well abreast of e-technology and this was amply demonstrated in the final contributions via computer enhanced images where mainly early British Empire stamps were examined in the closest detail. The scanning of images was agreed to be the most effective process. Such scrutiny enables the easy detection of watermarks, printing variations, inks, flaws and occasional rarities….happy hunting!!
| | |
| --- | --- |
| | |
| Nicely cancelled Gilbert & Ellice Islands stamps | A multitude of stamps on one article |
| | |
| Selection of Parcel Post Labels | Cutting from the Evening Press |
(paul barry)
____________________________________________________________________________________________________
To see reports and pictures of meetings from the 2012-2016 years, please click here