Thursday 5th March 2020 - Spring Auction and Raffle
There was a good variety of lots for sale, which included coins and memorabilia, as well as stamps and albums, with plenty of buyers at the evening's Spring Auction. It was good to be able to re-introduce the raffle which raised £29.00
chris wheeler
oooooooooooooooooooooooooooooooooooooooooooooooooooooo
Thursday 6th February, 2020 - Members Displays: Space
Mike Trickett opened the evening with a "mixed bag" of subjects, areas, format and interpretation of Space, starting with a selection of postcards, stamps on outer space, including humorous postcards of Germans looking at the passing of Haley's comet, and ending with some pictures of the Satellite production and testing facility on the Isle of Wight from which 22 launches took place. Mark followed with a range of stamps from his "poor quality" collection, including stamps printed with cancellations already applied. Sets from Ecuador and Venezuela were concentrated on. Rick Wilmot put up a frame of used covers posted from all round the world, but all with Czechoslovakian stamps, featuring astronauts, each cover being well illustrated. The next frame was packed with stamps and a few FDCs from Ken Parrott, depicting sets from a host of countries, A to Z, covering many aspects relating to the space programme, all most colourful. Chris Wheeler interpreted space as an open area, with a frame of postcards showing views of Central Park, New York, explaining its development from rough ground 2½ miles by ½ mile, back in the 1850s. Tony Arnold displayed six frames, starting with stamps on a stellar wallpaper background, which was very effective, followed by postcards, miniature sheets, covers and the large holographic sheets issued by different countries showing the earth and space. Postmarks and space-related cancellations were included. The evening closed with a short article from The Telegraph showing the only Brexit stamp, one from Austria with Great Britain just a space on the map!
| | | |
| --- | --- | --- |
| | | |
| France - Space Programme | Germany - postcard "The Comet is Coming" | Ecuador - miniature sheet and single stamp on piece |
| | | |
| Registered cover with Czechoslovakian stamp and illustration | Space Dog LAIKA | Cosmanauts in their Capsule |
| | | |
| Florida Space Centre postcard | TheNight Sky - Scorpio | 2020 BREXIT stamp from Austria |
(chris wheeler)
***************************************************************************************************************************************
Thursday 16 January 2020
Members Displays - Islands
Twelve of the eighteen members present this evening put up one or two sheet displays covering a broad range of topics with Islands as the theme, including one of our new members, Peter Roberts who displayed for the first time. Tony Arnold began with two frames of mainly postcards covering the Channel Islands, Malta and the Canary Islands. Peter Roberts defined what local stamps were and showed examples of them from some of the 41 English and 252 Scottish islands, including Sealand built during WWII, and now a private residence. Mark concentrated on the Galapagos Islands, showing stamps depicting some of the wonderful wildlife existing there on this province of Ecuador with a population of some 10,000. Ken Parrott concentrated on the Bahamas, Bermuda, Cyprus and the independent issues of Kiribati. Michael Mawdsley took a novel approach with a sheet of stamps on an island from each letter of the alphabet except the letter X. Mike Houchen put up a frame of presentation packs from Jersey, whilst Rick Wilmot put up several Year Packs from Aland, and a cover which had been opened (censored) by the Border Force. Ted Kemp put up finely illustrated covers each with a single mint stamp of a bird from a different country retained in a clear thin plastic sleeve. This was followed by Chris Wheeler who put up a frame of all the stamps issued by Madiera between 1980 and 2005, illustrating the wide scope of designs and themes used over the 25 years. Mike Trickett put up a rare example of a very early cover taken from Lundy to Bideford for postage, before the introduction of the local puffin stamps, as well as an airmail stamp used for mail takn to the mainland by plane from the small airfield on the island. Many examples of different papers, printings and other varieties were included. David Wilkins closed the evening with a frame of stamps from their inception, from the Island of Formosa. An excellent and varied evening which everyone enjoyed.
| | | |
| --- | --- | --- |
| | | |
| Amalgamation of the Gilbert and Ellice Islands to form Kiribati in 1979 | Bahamas overprint | Aland examples |
| | | |
| Floral exhitis from the Galapagos | Canary Islands from Spain | Early Grenada stamp |
| | | |
| | Early Newfoundland in brown | Example from the Island Birds presentation pack issue |
| | | |
| Two early stamps from Formosa | Triangular for Lundy | Bisect on cover from Jersey |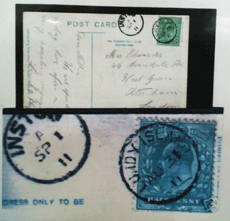 Rare pre-puffin on piece. delivered to the mainland
chris wheeler
#######################################################
Thursday 2 January 2020
Members Displays - Cinderellas, Back of the Book
Tony Arnold started the evening with an overview of what the term Cinderella covered and then proceeded to show five frames of examples covering a wide range material includng College stamps, TV and National Savings, labels from Lundy, Scout Hall stamps and local mail. Mike Houchen followed with an array of local postals and labels issued by the many islands around the UK, all featuring lighthouses, including ferry and ship labels. Some overprints were included. Mark continued with his back-of-the-book collection of Belgium Railway stamps, a very extensive collection, imprinted in French and including the French Railways use of Belgian routing. These commenced in the 1860s, were plentiful and are still very popular. He showed examples of issues stolen by the Germans at the start and during the War, and countermeasures taken to ensure that the correct rates had been paid, with modified issues by the Railway Company. Rick Wilmot concentrated on a breakaway Principality set up in Wesrern Australia by Prince Leonard, called the Hutt River Principality. Many very interesting issues were released, used mainly by visitors, as there are now only about 30 permanent residents. Closing the second half Ray Saunders mounted two frames of stamps produced by Rushstamps for some of the Caribbean Counties, which blacked out their country name and were overprinted "Hampshire Local Mail" with the value, during the 1988 postal strike.
Mike Trickett put up some vignettes, stickers with perforations, labels, export control stickers, receipt stamps, local justice and postal staff training stamps, all from France. Wendy Buckle showed a range of Revenue stamps and their rubber stamp and preprinted precursors on documents going right back to 1639. The First Stamp Act came into force in 1694 and remained effective until 1861. She closed with some advertising labels. Finally, Chris Wheeler put up a frame of recent "Through My Door" covers with examples from around the world illustrating the different and up-to-date use of fama labels, bar codes and stickers to pay for and adorn their mail.
| | | |
| --- | --- | --- |
| | | |
| Local Post, Stroma to John O'Groats | Belgian Railways, Chemin de Fer with upside down cancellation | Strike Mail produced in Lyndhurst,with country obliterated, for Local Mail use |
| | | |
| Wareham, Dorset, Christmas Scout Hut Appeal, 25p | Label availableto passengers on the Waverley | Aid for the War Wounded, used on Military Correspondence |
Prince Leonard, 4th Prince of Hutt River Province Principality
Top of 1659 document with imprinted tax mark, Generalite de Paris,
Two sheets bound together
chris wheeler