Thursday 20 January 2022
Dispaly on Latvia 1785 to 1945 by Wendy Buckle, FRPSL
The display told something of the complicated history of Latvia through stamps and postal history. By the late 18th century Latvia had become part of the Russian Empire, shown through pre-stamp markings, then the introduction of postage stamps in Russia. Throughout World War I the country was occupied by German forces. Two types of postal history were shown here: the military Feldpost system with three major types of postmark; and the civilian mail system, subject to very strict censorship; both systems being used until the end of World War I. In November 1918 Latvia declared her independence from Russia and issued her first stamp, which due to a paper shortage was printed on the back of military maps. But by 1919 the country was embroiled in the "Latvian War of Independence", fighting Bolshevik, White Russian and German troops. Provisional mail from this period was shown. By June 1920 the country had regained some stability and two frames of stamps plus one frame of covers from 1919 to 1940 were shown. This was followed by one frame of airmails. The last frame illustrated Latvia's history in World War II, occupied first by Soviet, then German forces.
The first postal marking used in Latvia,
Riga to Ghent 12 November 1785
World War I cover censored in Libau,
sent locally 23 July 1918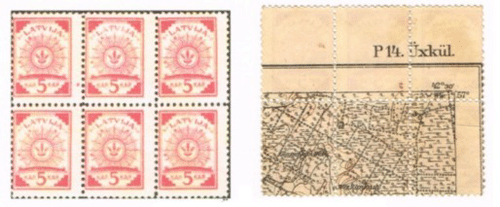 Block of map stamps, front and back, SG1
An early airmail cover, Riga to Danzig 28 September 1921
German occupation in World War II.
Libau to Pillau 27 July 1943, registered and censored
(Rick Wilmot)
***********************************************************************
Thursday 6 January 2022
X, Y and Z are for . . .

The theme was X-Y-X. Contributions came from nine members.
Brian Snape began with a selection of material from Eastern Europe. Mike Houchen with Lighthouses from the former Yugoslavia. Alan King also showed Yugoslavia together with African countries beginning with Z. Similarly, Michael Mawdsley showed material from Zanzibar, Zimbabwe and Zambia. New member, Simon Adams brought interesting perfins, Y pictured below. Dave Wilkins had decided that X could be interpreted as EX and showed some ex Italian colonies. Rick Wilmot showed a Danish cover depicting Xerxes, a mural in a Danish church, together with some Yemen miniature sheets. And finally, Mike Goodman had brought some novel USA material including a leather postcard.
(Rick Wilmot)
********************************************************
Thursday 16 December, 2021
Christmas Social
Twelve members plus ones, came along to the Christmas social evening. David Wilkins (Chairman) welcomed everyone. There was plenty of food and drink available.
The raffle in memory of Theresa Saunders, who had sadly passed away recently, raised £25 for club funds.
There were just two displays, one from Tony Arnold with some local pictures of Lytchett Minster, and the other from Shirley Kemp with a display of the art work of Czechoslovakian artist Vaclav Jansa.
A photo quiz by Tony followed with Brian Snape being the outright winner.
The evening ended with the chairman thanking everyone for their contributions and, hopefully, looking forward to an interesting philatelic 2022.
@@@@@@@@@@@@@@@@@@@@@@@@@@@@@@@@@@@@@@@@@@
Thursday 2 December, 2021
AGM. Plus members' displays One sheet from everyone
This meeting being the AGM began with the business of officer's reports. All posts for a new committee had been filled ensuring the future of the club.
The evening's theme was 'One sheet from each member'. These were as follows:
Beginning with a M/S from David Wilkins. Mike Houchen showed ships from Mozambique. Brian Snape followed on from the last meeting with a page of Hungary Inflation stamps. Alan King showed three designs of the first Canadian Christmas stamps from 1898. Ken Parrott showed multiple value strips of Machin GB definitives. Rick Wilmot brought 2012 joint issue from France and USA showing Miles Davis and Edith Piaf. Robin and Maxine Humphries showed some overprinted stamps from Anguilla, the 1977 Royal Tour of the Caribbean. Mike Mawdsley showed a page of the 1978 Bermuda wildlife stamps. Tony Arnold had a picture postcard of an old post box in Birmingham. Ted Kemp showed first world war overprints from the Ottoman Empire. Shirley Kemp brought a page of music in philately with the Gilbert and Sullivan GB set. Wendy Buckle showed a copper engraving used for a Swiss postage stamp.

(Rick Wilmot)
*************************************************************************************
Thursday 18 November 2021
Members' displays "A Single Country"
Mike Houchen opened the meeting stating that although most positions have been filled to keep the club alive there is still a need for a new Chairman. The next meeting on 2nd December will be the AGM where decisions will need to be made.
Mike Houchen started with a journey around the British Isles showing Cinderella stamps with Lighthouses.
Ken Parrott showed his collection of Malta beginning with the early QV stamps through to QEll.
Alan King had brought his collection of Cape of Good Hope triangular stamps explaining different prints and papers used, and the connection with these stamps to Stanley Gibbons. Also, a page of forgeries.
Brian Snape showed a collection of 1945/6 Hungarian stamps explaining the ultra-inflationary period of the time.
Tony Arnold brought a display of New Zealand material including postcards and, covers and postmarks from different towns in NZ.
Shirley Kemp showed two topics of Czechoslovakian stamps beginning with Czech Art and Artists and followed with Flora and Fauna of Czechoslovakia.
David Wilkins brought a collection of Indian Feudal States together with a written page on the principle Indian native States.
Wendy Buckle brought some of her Latvia collection. These were the 1918/19 definitive stamps, some printed on German maps, and other different types of paper.
Rick Wilmot showed an early collection of Australia from 1913 – 1932 including overprinted and perforated official stamps, and followed with stamps of the Australian Antarctic Territory.
(Rick Wilmot)
*********************************************************************************
Thursday 4 November 2021
Members' displays "Stamps Only"
The meeting opened with Mike Houchen informing the group that Wendy Buckle has been elected a Fellow of the Royal Philatelic Society London (FRPSL). This news was well received.
The theme tonight for members displays was 'Stamps only'. The review of responses for committee members was postponed until the AGM on 2nd December.
Six members had brought displays on tonight's topic.
Mike Houchen began with 'Lighthouses of Croatia'. He had also brought along three books on the topic.
Ken Parrott showed stamps of Tuvalu and Kiribati both being renamed from the Gilbert and Ellis Islands. I nice display including Fish, Birds, Flora etc. including Specimen stamps.
Rick Wilmot displayed the complete year, 1935, of stamps from the USSR. These included the opening of the Moscow Underground, the ill-fated SS Chelyuskin and the single overprinted stamp of the flight between the USSR and the US.
Tony Arnold showed the group a collection of 'Stamps on Stamps'. An interesting lot from many different countries.
Mike Mawdsley showed stamps of the Falkland Islands and Dependencies, Graham Land etc. Included were the Silver Wedding stamps and the Map stamps of the area.
Shirley Kemp showed two topics, first the Europa stamps from c. 1956, from different European countries, and secondly to reminding us that Christmas isn't far away showing stamps with Christmas motifs.
| | | |
| --- | --- | --- |
| | | |
| | | |

Next meeting 18th November - Members' displays A single country.
************************************************************************************
Thursday 7 October 2021
Members' displays "Going postal"
At our second meeting since the club started up again post-covid eight members displayed items on the theme Going postal.
Ken Parrott started the meeting with registered envelopes and fieldpost covers, most of them featuring censor marks; plus sea mail and miscellaneous covers.
David Wilkins concentrated on Belgian railway parcel stamps. Belgium had a comprehensive railway mail system, and if an item was very light it went by road, if it was very heavy it went by rail, but otherwise senders could choose the mode of transport, with post offices selling railway stamps and railways selling post office stamps.
Ted Kemp showed a detailed study of early Turkey. Prior to 1840 Turkey had been part of the Ottoman Empire, and latterly became part of the Austro-Hungarian Empire, which had over 40 post offices in Turkey. The first postage stamps were issued in 1842, with the use of seals before that.
Rick Wilmot brought along a new interest of his – the Spanish Civil War. Many of the covers featured added labels and censor marks, some were advertising covers, including one with an advertisement for His Master Voice (but of course in Spanish).
One sideline to stamp collecting which few of us consider is keeping a file of newspaper clippings to do with postal services. Tony Arnold put up a very entertaining collection, including headlines "End of hero messengers who resisted the tyrants, honeytraps and pirates", "Fleasy Street", "Sting in the mail", "Postman nicks Queen's letter", and "Final moments of war hero pigeon".
Barry Hobbs used lockdown to start a new collection: the private mail carriers of Colombia. A terrain that stretched from the Pacific to the Atlantic oceans plus the Andes running through caused major challenges for the rail companies in building their lines. Legislation in 1859 decreed that the mail service should not be a monopoly of the federated state, so towns, cities, small companies and individuals set up their own services, most of which have never been properly documented.
Mike Houchen's collection concentrated on lighthouses, but here he put up Jersey issues showing not only lighthouses, principally Corbiere, but also Martello towers, resulting in a display of the navigational marks of Jersey.
Wendy Buckle finished the evening with a frame of Latvia postage dues; firstly those covers posted in Latvia sent either internally or abroad, then covers posted abroad sent to Latvia. Charges were indicated either by cachets, including the international 'T' mark, or – for foreign mail – by postage due stamps.
| | | |
| --- | --- | --- |
| | | |
| Paquebot cancel on cover sent from Malta to Somerset, 1962 | Belgian Postal Stamps | Austria to Turkey 1840, with Osmani Seal |
| | | |
| Spanish Civil War, Tenerife to London, 1937 | Colombian Zeppelin Mail, 1932, carried by private carrier | Latvia to Vienna, 1920, with Austrian postage due stamp |
(wendy buckle)
*****************************************************************
Thursday 16 September 2021
Members' displays Acquisitions and write-ups since lockdown
At last the Club had the chance to meet in person, after an eighteen month break due to COVID-19. Following a discussion on the urgent need for a new committee, seven members displayed what they had been working on during lockdown.

Mike Mawdsley was unable to be present but provided four sheets of stamps whose designs particularly appealed: three sheets of Barbados featuring birds, orchids and flowers, a sheet of Bermuda showing wildlife and one of the British Virgin Islands showing fishes.

Ken Parrott has been working on the numbered handstamps applied by postmen in Malta to incoming mail from the Queen Victoria period. This is still a work in progress, and a selection of incoming foreign postcards were shown.
| | |
| --- | --- |
| | |
| Sheet of Barbados orchids | Rome to Malta 1920, with postman handstamp 3A |
Bob Small showed a Napoleonic prisoner of war letter of 1813; plus a lockdown project. In 1797 the British Admiralty commissioned the building of a new prison for up to 7,000 Napoleonic prisoners of war. A painting was made of this prefabricated building and from this Bob built a 1:32 scale model of the blockhouse.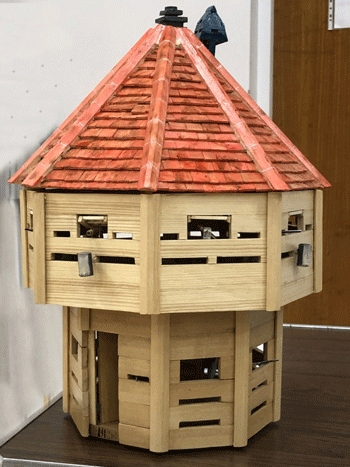 Model blockhouse of a British prison for Napoleonic prisoners of war
Alan King tested his nerve in an EBay auction for an early French stamp: the 1 franc vermilion in the Ceres head first issue of France, variety of colour. Trusting his judgement on colour he held out and purchased a bargain. He also showed examples of early French perforation experiments.

Tony Arnold brought some nostalgia with postcards and first day covers collected together as "When we were young" featuring various nostalgic subjects including Enid Blyton, Thunderbirds, the Wombles, and the circus.

Rick Wilmot started by passing on greetings from ex-member Mike Trickett, now living in Spain. He then put up a collection few in the audience knew about: the Philatelic Department run by the London department store Selfridges, which provided a British Colonial New Issue Service as supplied by the Crown Agents. While the store itself is well-documented much less is known about that department.
| | |
| --- | --- |
| | |
| Advertising insert in the cover | British post offices in Tangier to London 1936, addressed to Selfridges Philatelic Department |

Bill Pipe finished the evening with his lockdown projects: two new collections, firstly Railway Letter Stamps then Postal and Internal Markings of the Royal Navy.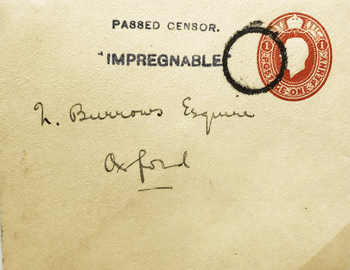 Cork circular dumb cancel on George V postal stationery addressed to 'Oxford'. Sent from the Boys Training Ship Impregnable.
(wendy buckle)
________________________________________________________________________________________________
Club Programme for 2021
16 September

Welcome back.
Outline the position of the Club and Committee
Members' displays Acquisitions and write-ups since lockdown

07 October

Members' displays Going postal

21 October

Auction

04 November

Review responses to need for Committee members
Members' displays Stamps only

18 November

Members' displays A single country

02 December

AGM. Plus members' displays One sheet from everyone

16 December

Christmas Social