Thursday 7 October 2021
Members' displays "Going postal"
At our second meeting since the club started up again post-covid eight members displayed items on the theme Going postal.
Ken Parrott started the meeting with registered envelopes and fieldpost covers, most of them featuring censor marks; plus sea mail and miscellaneous covers.
David Wilkins concentrated on Belgian railway parcel stamps. Belgium had a comprehensive railway mail system, and if an item was very light it went by road, if it was very heavy it went by rail, but otherwise senders could choose the mode of transport, with post offices selling railway stamps and railways selling post office stamps.
Ted Kemp showed a detailed study of early Turkey. Prior to 1840 Turkey had been part of the Ottoman Empire, and latterly became part of the Austro-Hungarian Empire, which had over 40 post offices in Turkey. The first postage stamps were issued in 1842, with the use of seals before that.
Rick Wilmot brought along a new interest of his – the Spanish Civil War. Many of the covers featured added labels and censor marks, some were advertising covers, including one with an advertisement for His Master Voice (but of course in Spanish).
One sideline to stamp collecting which few of us consider is keeping a file of newspaper clippings to do with postal services. Tony Arnold put up a very entertaining collection, including headlines "End of hero messengers who resisted the tyrants, honeytraps and pirates", "Fleasy Street", "Sting in the mail", "Postman nicks Queen's letter", and "Final moments of war hero pigeon".
Barry Hobbs used lockdown to start a new collection: the private mail carriers of Colombia. A terrain that stretched from the Pacific to the Atlantic oceans plus the Andes running through caused major challenges for the rail companies in building their lines. Legislation in 1859 decreed that the mail service should not be a monopoly of the federated state, so towns, cities, small companies and individuals set up their own services, most of which have never been properly documented.
Mike Houchen's collection concentrated on lighthouses, but here he put up Jersey issues showing not only lighthouses, principally Corbiere, but also Martello towers, resulting in a display of the navigational marks of Jersey.
Wendy Buckle finished the evening with a frame of Latvia postage dues; firstly those covers posted in Latvia sent either internally or abroad, then covers posted abroad sent to Latvia. Charges were indicated either by cachets, including the international 'T' mark, or – for foreign mail – by postage due stamps.
| | | |
| --- | --- | --- |
| | | |
| Paquebot cancel on cover sent from Malta to Somerset, 1962 | Belgian Postal Stamps | Austria to Turkey 1840, with Osmani Seal |
| | | |
| Spanish Civil War, Tenerife to London, 1937 | Colombian Zeppelin Mail, 1932, carried by private carrier | Latvia to Vienna, 1920, with Austrian postage due stamp |
(wendy buckle)
*****************************************************************
Thursday 16 September 2021
Members' displays Acquisitions and write-ups since lockdown
At last the Club had the chance to meet in person, after an eighteen month break due to COVID-19. Following a discussion on the urgent need for a new committee, seven members displayed what they had been working on during lockdown.

Mike Mawdsley was unable to be present but provided four sheets of stamps whose designs particularly appealed: three sheets of Barbados featuring birds, orchids and flowers, a sheet of Bermuda showing wildlife and one of the British Virgin Islands showing fishes.

Ken Parrott has been working on the numbered handstamps applied by postmen in Malta to incoming mail from the Queen Victoria period. This is still a work in progress, and a selection of incoming foreign postcards were shown.
| | |
| --- | --- |
| | |
| Sheet of Barbados orchids | Rome to Malta 1920, with postman handstamp 3A |
Bob Small showed a Napoleonic prisoner of war letter of 1813; plus a lockdown project. In 1797 the British Admiralty commissioned the building of a new prison for up to 7,000 Napoleonic prisoners of war. A painting was made of this prefabricated building and from this Bob built a 1:32 scale model of the blockhouse.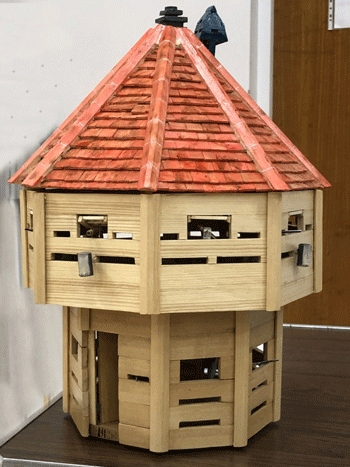 Model blockhouse of a British prison for Napoleonic prisoners of war
Alan King tested his nerve in an EBay auction for an early French stamp: the 1 franc vermilion in the Ceres head first issue of France, variety of colour. Trusting his judgement on colour he held out and purchased a bargain. He also showed examples of early French perforation experiments.

Tony Arnold brought some nostalgia with postcards and first day covers collected together as "When we were young" featuring various nostalgic subjects including Enid Blyton, Thunderbirds, the Wombles, and the circus.

Rick Wilmot started by passing on greetings from ex-member Mike Trickett, now living in Spain. He then put up a collection few in the audience knew about: the Philatelic Department run by the London department store Selfridges, which provided a British Colonial New Issue Service as supplied by the Crown Agents. While the store itself is well-documented much less is known about that department.
| | |
| --- | --- |
| | |
| Advertising insert in the cover | British post offices in Tangier to London 1936, addressed to Selfridges Philatelic Department |

Bill Pipe finished the evening with his lockdown projects: two new collections, firstly Railway Letter Stamps then Postal and Internal Markings of the Royal Navy.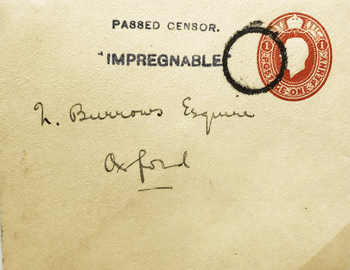 Cork circular dumb cancel on George V postal stationery addressed to 'Oxford'. Sent from the Boys Training Ship Impregnable.
(wendy buckle)